Unit W207

Unit W207 is a studio that comfortably sleeps 4. However, if you like feeling close, the couch folds out to a hide-a bed to
sleep 2 more. The bed is a new log bunk with a double bed, a single bunk, and a single trundle. Most studios in the building
have a Murphy bed, which we found to be too uncomfortable. You can get a better view by clicking on the picture below.

Our unit is located on the courtyard just steps from the hot tub and a few more steps to the pool. We have included many
of the amenities of home. Unit W207 has a gold rating. Be sure to ask the rating because the prices are the same.
The best values are the units with the highest ratings.
The unit has cable TV, a VCR, a Nintendo 64, and a CD/Cassette player. Rentals for the video games and movies
are locally available. Also available in the unit are a hair drier, a washer and drier, a full kitchen, and a dining area.
Please view the pictures below. (Click on the picture to enlarge)

Dining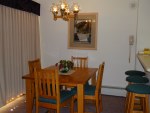 Living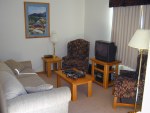 Kitchen